Our Client Reviews
You're an excellent role model for the profession
Hi Richard,

I have particularly enjoyed being on your firm's mailing list. I feel you and your firm have made meaningful contributions to the practice of law and provide a positive perception of attorneys by the general public. I am proud to have been a practicing attorney for 44 years (now retired), and am pleased that your below motto emphasizes "people", not "cases". Keep up the good work.  You're an excellent role model for the profession.

~ Steven R. Hubert
---
You exceeded any expectations that I may have had
Dear Richard,

You exceeded any expectations that I may have had. My assessment prior to meeting was that you have built a first-class firm that is a "well-oiled machine." I say this in the most positive sense. This can only result from many years of demonstrated success in determining what works best to achieve the optimal outcome for your clients. The checklist that you shared which enables you to then focus on the creative ways to achieve positive results is a testament to a well-honed process.

I think it's fair to say that there is likely no one better to navigate the process to maximize collecting insurance coverage. Your intellect and instincts are unmatched. When combined with a heart to prevail on behalf of your clients, it is an unstoppable force. Your clients have been so fortunate that you are on their side.

I admire anyone that persists in a career with the same zeal and enthusiasm that sparked their passionate pursuit.

Thanks too for sharing your rich history of advancing the importance of diversity – long before it became a prominent initiative. You are a powerful visionary with the energy to fulfill the mission. Everyone benefits.

I am deeply grateful for the generosity of your time and insights.

~ Kind regards, Sharon
---
We felt helpless until Richard took over
Dear Mr. Alexander,

I hope my letter finds you in the best of health. I want to express my gratitude and immense appreciation for your efforts, professionalism, and dedication to my case.

It was quite an exhausting ordeal for myself, my wife, and my children, and we felt helpless until you took over. We could have never thought anyone would stay by our side, advising, correcting, suggesting, and putting us in the right direction. You remained very generous in every aspect of what we needed to do. You reduced my anxiety level and helped me focus on the best way to handle the unfortunate situation.

I commend your sound knowledge and skills in your field. Without a doubt, you are aptly equipped to persuade and represent in all legal matters in any court of law. Your help, your principles of honesty, and integrity is second to none. You are a great human.

I sincerely believe that I would not have been able to get a clear picture without your guidance, help, and support. As a Mediator, I recommend attorneys to my clients; I wouldn't hesitate to recommend your highly esteemed offices as my first choice to my clients and friends.

Once again, I thank you for your valuable guidance. Thank you and best regards, sir.

~ Najam A. Najmi, Sacramento
---
You are the Best
I can't express in adequate words how lucky I was to have your firm represent me during this ordeal. Dick, my opinion is that you are the best.

The end result of this ordeal will never be worth all of the pain, trials and tribulations associated with the recovery from this ambulance taking me out on my motorcycle on the way to work, but it will certainly be a lot easier with the settlement you got for me. Carol and I will be forever in your debt for that. I hope that I not only was a client but I will remain a friend.

The end result of this ordeal will never be worth all of the pain, trials and tribulations associated with the recovery from this ambulance taking me out on my motorcycle on the way to work, but it will certainly be a lot easier with the settlement you got for me. Carol and I will be forever in your debt for that. I hope that I not only was a client but I will remain a friend.

~ Steve Herrera, Sergeant, Palo Alto Police Department
---
Superhero Representation
Dear Richard,

In December, 1984 you represented me like a Superhero.

My case was the first civil lawsuit in Santa Clara County for child molestation. I was just 6 years old. Despite the bad feeling I had with the trauma I had endured, you went out of your way to make sure I would be at ease. Reflecting back, I remember feeling you were a family friend, that genuinely cared for both me and my mother's well-being. It was comforting that you reassured me that the predator was never going to hurt me again.

My mother said the trial was like a "made for T.V. Perry Mason moment." After he testified in court denying he had molested me, you forced him to read out loud to the jury a letter he had written for his criminal case confessing to the molestation. Don't know how you found that letter or why the lawyer defending him in our case didn't know about it.

My mother said you fought hard for me. From what she has told me, you have a great deal of passion and worked hard to make sure we made it the finish line with a victory.
In the end I won. Thank you for being a great lawyer for a young child and also a caring man. My mother has always said "You are a good man." I agree 100%: a very good man.

With Love and Gratitude,

~ Amber McGreevy, civil suit for child molestation, Santa Clara County, California
---
The importance of having an experienced lawyer
I was driving back to work after lunch on my motorcycle when my life was changed by a driver making an illegal turn. I was referred to Richard Alexander and when I met him in my hospital room, I did not realize how important it would be to have an experienced personal injury lawyer to provide me with personal legal care. During the first days of my hospitalization, Dick warned me to carefully follow all medical advice because the fracture in my lower leg could result in a "nonunion," which would require surgery. Unfortunately, Dick's prognosis was ignored by my doctors and only after I left the Kaiser system and was evaluated by an orthopedic surgeon outside of Kaiser did the MRI show a "classic nonunion." I have had the surgery and have greatly improved. While I am pleased with the final recovery, I now understand how important it is to have a personal lawyer on your side. I was kept fully informed at every stage and that made a big difference to me, which I appreciated. Thanks to Alexander Law Group for being there for me. They have my highest recommendation.

~ Alan Taber, motorcycle accident, Morgan Hill, California
---
Excellent Service
Our sincere thank you for your excellent service. We don't know how our Chicago attorney found your firm, but it was a stroke of good luck for us. We are very grateful for your effort in achieving a successful and confidential conclusion for us in our San Francisco law suit.

~ Deerfield Illinois Family
---
Aggressive and quality representation
As a top-selling business lines agent for one of the largest insurance companies in America, I really didn't understand my legal rights when the company made the decision to terminate the contracts of all business lines agents, including myself. I spoke with a number of lawyers working for some of the largest law firms, only to become more frustrated with their lack of understanding and knowledge, and it was obvious they were intimidated in the prospect of taking on such a large insurance company. Then I met Richard Alexander. From our first meeting, it was obvious that he clearly understood the law as it pertained to what this company was doing. He was not intimidated by their size and Mr. Alexander and his team quickly went to work on my behalf. During the litigation process, I was continually impressed with the aggressive and quality representation Mr. Alexander and his team provided.

The outcome was an out-of-court confidential settlement that the insurance carrier agreed to just days before having to face Mr. Alexander in court. I highly recommend Mr. Alexander and his firm. Without his representation, I could have easily ended up without a satisfactory settlement, as was the case for many of the agents who were not represented by him.

~ Larry Kohler, anti-trust, San Diego, California
---
Nina Shapirshteyn won my child's case
Nina Shapirshteyn represented my child in a personal injury claim. Nina's professionalism and warm personal touch made me and my child instantly comfortable. We knew we were in good hands after our first meeting.

Ms. Shapirshteyn held our hands (sometimes literally) throughout the whole process; she was able to be as tough as nails negotiating to hold the defendant to a very satisfactory settlement.

Another thing I liked was how Ms. Shapirshteyn kept us updated at every step; she took the mystery and stress out of what could otherwise have been a very stressful situation.

I can't thank Ms. Shapirshteyn enough for everything she did for my child and would unreservedly recommend her to anyone who needs a first-rate, top-notch injury lawyer.

~ Valerie
---
Tragedy to triumph
When 12,000 volts exploded in front of David McNabb, his whole life changed. With millions in medical bills, his first lawyer told him the case was hopeless. Ten months later, he found Richard Alexander. Listen to Dave's story, truly one of tragedy to triumph and how Richard Alexander was able to take a case that was deemed "hopeless" and turn it into a $15,500,000 settlement.

~ David McNabb, electrical burn, Hollister, California
---
An attorney who fights for you!
If you've suffered a personal injury and are in need of an attorney, look no further. Nina is the attorney you want to have on your side especially if you are taking on entities such as big companies, insurance and government, etc. She fought our case hard, displayed ample patience, got to know us and represented us well. She went above and beyond with our case and exceeded our expectations. She is an expert in her field, knows how to represent plaintiffs and is truly a subject matter expert. If you want a positive outcome with your particular situation, go with Nina.

~ S. Iyer
---
Kind Words of Appreciation…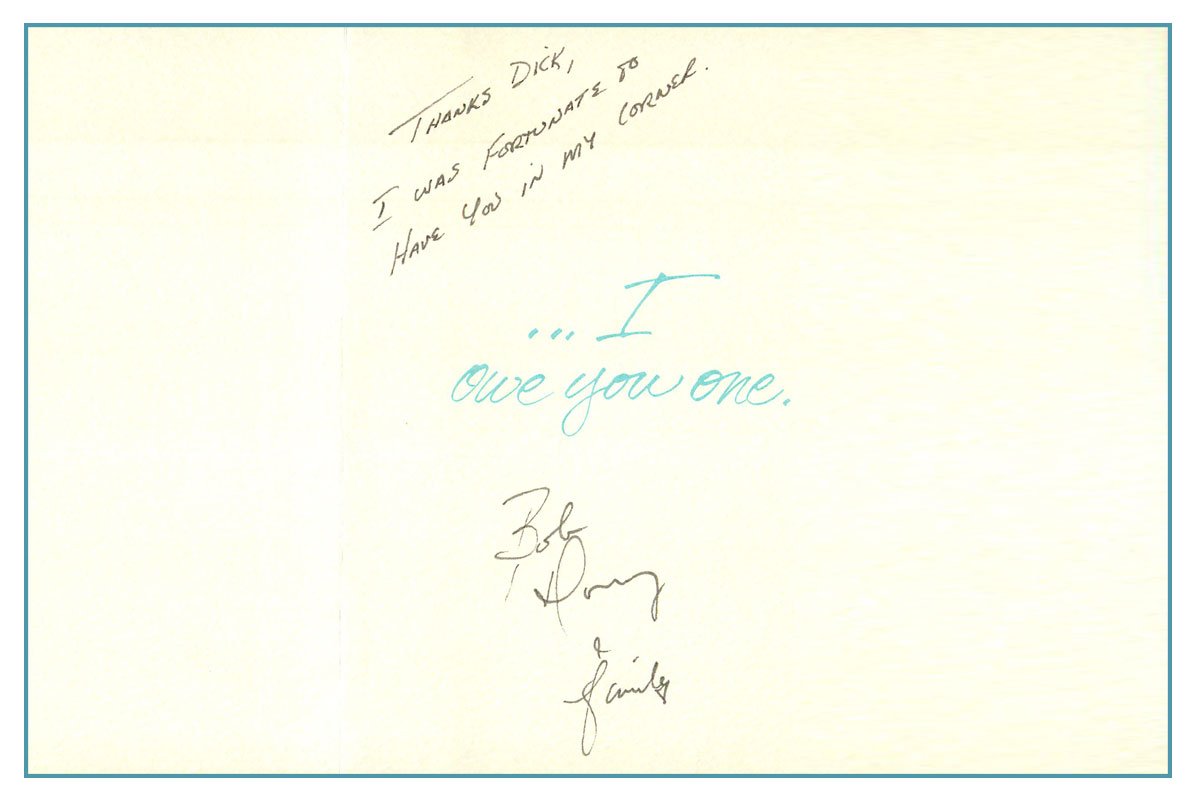 ---
Talented attorney and people's advocate
Richard Alexander, Esq., is a knowledgeable, aggressive advocate for his clients' interests. Richard was able to provide skillful expertise to serve my best interests during a time of transition and challenge in my life. Richard's professional advice and support during this time was absolutely essential to my understanding of the dynamics occurring and to give me the ability to effectively manage through a situation caused as a result of a traumatic traffic accident and career-limiting injury. Additionally, Richard's advice and support after my initial challenges resulted in a deeper appreciation for the skill and expertise displayed by this very talented attorney and people's advocate. Richard was able to skillfully negotiate, navigate and provide balance between multiple and sometimes competing interests to ensure that my welfare and well-being were considered, acknowledged and well-represented. I would strongly recommend Richard Alexander, Esq., to anyone who requires the best services available of a true mature advocate for consultation or litigation needs.

~ Bob Dorsey, motorcycle accident, Los Gatos, California
---
Thank you for bringing us justice
When Hengwei was hit by a bus riding his bicycle, we interviewed several lawyers who were ready to give up at the beginning. Only the Alexander Law Group gained our confidence. We needed the best and got the best. You dug out all the facts to prove the transit company was 100% at fault and provided excellent advice at every stage. We were ready to go to trial with you because you earned our trust. Thank you to our Alexander Law Group team for bringing us justice.

~ Hengwei Hsu and Serena Chen, bicycle-bus accident, Fremont, California
---
Excellent personal injury lawyer
Nina provided excellent services during my personal injury lawsuit. She was consistently professional, highly articulate, available to me for consultation, very focused and hardworking, and a genuinely kind person. I highly recommend her.

~ Anonymous
---
Best personal injury lawyer you can get!
Nina and her team are exceptional at answering questions that come up. I really appreciated the communication with her and the team. She does an amazing job preparing for court and is really something to behold during the court proceedings. I was astounded more than once at the quick-on-her-feet thinking she does in the spur of the moment. She is a superior attorney.

~ Paul, April 4, 2019
---
Superb representation
When cancer struck me, I thought about all the women that I worked with who had cancer, miscarriages and couldn't have children. I went to Alexander Law Group and found out I had been working with toxic chemicals that cause cancer. They fought for me and hired a nationally recognized expert to conduct a scientific study of the cancers suffered by my co-workers. I am proud the study is published and helping others to recognize the dangers of working with chemicals. Alexander Law Group fought for all of us and I am very grateful that I found the "right" lawyers. They are superb.

~ Alida Hernandez, toxic chemical exposure, San Jose, California
---
Competent, smart, compassionate and effective
My mother got into a terrible accident. When it was recommended for me to hire a lawyer, I looked online and found Nina's law firm. The first impression from the online chat service was good. They explained how the process works and the same day, Nina met with me to go over the accident and ways they could help me. Nina was knowledgeable, responsive, compassionate and very effective. Within days of that first meeting, she drafted the lawsuit and the process began. Throughout the process, Nina always answered my multiple questions (emphasis on multiple) promptly and when she was busy, she would let me know she would answer later and she always did. Her staff was also knowledgeable and responsive. I want to mention a particular situation that I think exemplifies the kind of lawyer Nina is and her capabilities. While answering the interrogatories that, by the way, were extensive and for three plaintiffs, she spent almost an entire day with us working on answering very difficult questions that had to be translated from Spanish because my parents are monolingual. The process was emotional and difficult for us, but Nina managed to keep us on track and focused on what was important.

I was impressed by Nina's ability to explain everything in ways a non-attorney who has zero law knowledge could understand and translate to Spanish.

We are very thankful to Nina and her firm for their professionalism, help and ultimately a great settlement.

~ Anonymous, Aug. 21, 2018
---
First-rate legal service
The Alexander Law Group is absolutely first-rate — timely, friendly and supportive staff interactions, including Nina's superb lawyering skills. Richard, you should be proud of what you have built. Your no-nonsense ability to extract the essential elements of the case as to its legal viability in the courts was very impressive — not forgetting to mention your detailed knowledge of the real downstream physiological damages that the defendant was liable for.

In a past life, I had occasion to interact with dozens of attorneys, mostly involving business diligence matters. I'm confident, without any equivocation whatsoever, that I would not hesitate one heartbeat to recommend your services to anyone in need of a personal injury law firm.

The Alexander Law staff was first-rate, throughout – patient, unflappable and always ready to help.

A special mention goes to Nina Shapirshteyn, who exhibited first-rate legal skills and a caring "legal bedside manner" for her clients throughout. Nina is a great asset not only to your firm but to the reputation of injury lawyering in general.

~ Sanford Forte
---
We moved to California while our daughter's case was pending in Kentucky and we had lawyers who helped us on a pro bono basis. When we moved to California, we weren't sure that we could find anyone like them and we were very stressed.

Our lawyer introduced us to Nina Shapirshteyn, who had agreed to represent my daughter pro bono. Nina made the finalization of our daughter's settlement a priority and everything was settled in less than a month.

When we needed help, Nina Shapirshteyn treated as a family member. Nina is a great credit to the legal profession for which we are very thankful. So, if you are having a bad time and looking for an outstanding attorney to help you, we highly recommend Nina Shapirshteyn.

~ D.J. and family
---
You're terrific. Thank you for being such a vital and positive force in the community.

~ Emy and Jim Thurber
---
Dick and gang, Above all else, not a day goes by where myself and my family are not EXTREMELY THANKFUL for the job you did representing us. Words cannot describe our feelings and admiration we have. After a struggle with pain for the three years before you came to my rescue, I was inspired by your caring and genuine thoughtfulness for what I (we) were going through. The pain I endured was crippling and torturous, but thanks to your help, guidance and the professionals (doctors) you surround yourselves with, I learned more about my condition than in all the three years before we met. This has been invaluable for my recovery. While I still have pain and discomfort that I will live with forever, I have made great progress with the therapy I can now afford and all that I learned while surrounded by you and being cared for as a member of your family. I could not be happier one year later. Saying "thank you" just does not say enough.

~ Brett Johnson, trip-and-fall – dangerous store entrance, San Jose, California
---
I want to thank you from the bottom of my heart for everything that you have done for us. Scott and I have a great respect and affection for you. You are truly magnificent. Scott and I are indebted to you for life. We have never had anyone fight so hard for us.

~ Scott and Evelyn Cunningham, Defective product, Quincy, Massachusetts
---
Thank you for believing in me and the countless hours of hard work you all put in on my behalf. Thank you for fighting the good fight. It has meant the world to me. My association with you has been one of pride and great esteem; for everything you've done, thank you.

~ Susan Boman, motor vehicle accident, San Jose, California
---
On Aug. 22, 2008, we finalized a judgment for $10.1 million after a 15-day jury trial for a 12-year-old boy who suffered severe personal injuries when he darted into the street and was struck by a car. The defendant was speeding at 33 mph in a school zone, yet her carrier refused to pay its $50,000 policy to settle all claims. On Nov. 14, 2007, at 4:20 p.m., Rasheed Hilson left a girls' basketball game at Morrill Middle School located at Morrill and Cropley in northeast San Jose.

~ Rasheed Hilson, brain injury, San Jose, California
---
Thank you very much for all your hard work and effort in obtaining the settlement on my behalf. It's not often that I have met and worked with such a passionate, dedicated and focused team such as yourselves. Your attention is 100% customer- and goal-oriented, and many business professionals could learn from your excellent 'can do' attitude and effort. You are a great team and I am very appreciative of everything that you each did for me. On behalf of my family and from the bottom of my heart, thank you. Warm Regards.

~ Kelly Telfer, auto accident, San Jose, California
---
Find out how Dick Alexander was able to turn a zero offer into $4.5 million after George Liu became a paraplegic in April 2006. The insurance company told George he was the cause of the accident and offered him nothing. Dick Alexander was able to perform a legal miracle and get George the compensation he deserved for his injuries.

~ George Liu, motorcycle accident, Milpitas, California
---
Jerry and Jackie Pighini's lives were changed forever when they were struck in a head-on collision on Highway 17 that caused multiple facial fractures and traumatic brain injury. On the eve of trial, 10 months after filing suit, Richard Alexander secured a $5.2 million recovery for the Pighini family. Listen as Jerry and Jackie describe how Dick became not only their lawyer, but their friend.

~ Jerry and Jackie, auto accident, San Jose, California
---
When my father, age 71, was struck by a van in Palo Alto, it did not take me long to find out that Richard Alexander was the lawyer I wanted to take on a major company. My father died from his injuries on June 15, 2005. Friends told me my case would take years. I was fortunate to have Richard Alexander's personal counsel and with the defendants facing an early trial, I accepted a settlement offer on July 11, 2006. The defendants knew our case was prepared to go to trial and that it would be tried by an outstanding trial attorney. I strongly recommend Alexander Law Group and give them my thanks for their kindness, understanding, professional work and being my personal lawyers.

~ Jae H. Gi, auto accident, San Jose, California
---
When our family lost my father, we were devastated. I understood it would take years to resolve and we interviewed several lawyers to find the "right" attorney. We selected Richard Alexander and he was simply outstanding. He quickly moved our case to an excellent conclusion, but more importantly, he served as a valuable counselor to my mother, sister and me. We valued his compassionate understanding and care. Since then, I have become a lawyer and even more deeply appreciate Richard's commitment to his clients. I strongly recommend him.

~ Daniel Lee, big rig truck accident, New York City
---
Richard Alexander is an outstanding trial lawyer. When I was defrauded by a major company, Dick filed a class action that got its attention and negotiated a good result. I placed my trust In Dick's skill and judgment. I made an excellent choice.

~ Hal Plotkin, class action, Palo Alto, California
---
After an SUV rollover on a freeway claimed their daughter's life, the highway patrol blamed her for the accident. The Pettits refused to accept that and hired Richard Alexander. Dick proved that a defective tire caused an already dangerous SUV to roll. Hear what Bob and Janet have to say about Dick.

~ Bob and Janet Pettit, wrongful death, Henderson, Nevada
---
Dick Alexander saved me and my family. When I was defrauded out of my business, I hired a lawyer who sent bills, but who was not delivering results, so I went to see Dick Alexander. I was impressed. His immediate understanding of my personal tragedy and ability to take charge convinced me. Dick was the best choice. Smart and well-prepared. The judge and the jury liked that a lot. If it happened again, Dick Alexander is my choice – in a heartbeat.

~ Brad Bergantz, consumer fraud, Cupertino, California
---
Coming to the California for a vacation and being hit by a truck, causing severe fractures to my face, required the best medical and legal care my family could find for me. Fortunately, we found Richard Alexander, who gained our confidence. With his years of experience, he explained how American law would protect me, but he did more. He arranged for a top plastic surgeon at Stanford to reconstruct the fractures I had suffered, even though my Greek insurance was not willing to pay the bill. All that happened in August 2006. In November 2007, I returned for court proceedings and was very happy to have my lawyer negotiate a settlement that was outstanding. Today, I am grateful that my face has healed without scars, that the American legal system protected me and that I had a wonderful lawyer at my side to care for me. Thank you from the bottom of my heart. Many thanks with my gratitude.

~ Vasileios Makris, auto accident, Athens, Greece
---
When I needed the best personal injury lawyer, I hired Richard Alexander, the perfect choice when having the right lawyer can make all the difference in the world. Working as a carpenter takes its toll over the years and then a crane operator allowed a gantry arm to swing into 120,000 volts, causing a major explosion that threw me to the ground and caused serious injuries, including my loss of balance that baffled the workers' comp doctors that ended my work in construction. Alexander Law Group, LLP, hired all the experts needed to prove my case, including a rehabilitation expert, economist and California's top ENT, a specialist in vertigo. Alexander is the best. Thanks.

~ Bill Johansen, construction injury, Morgan Hill, California