It is December 5, Saturday, noon. Valley Fair shopping mall in San Jose is bustling with holiday shoppers. A private security guard unlicensed to carry a gun is standing in front of the mall's parking garage, directing traffic exiting the mall.
The guard sees a car drive over an orange cone. He abandons his post, runs after the car, and over to the driver's side where he pulls out his gun and aims it at the driver. He detains the driver at gunpoint until a second security guard intervenes. Then second guard proceeds to bang on the driver's window and scream at the driver to "either unlock your door or I will take out your window."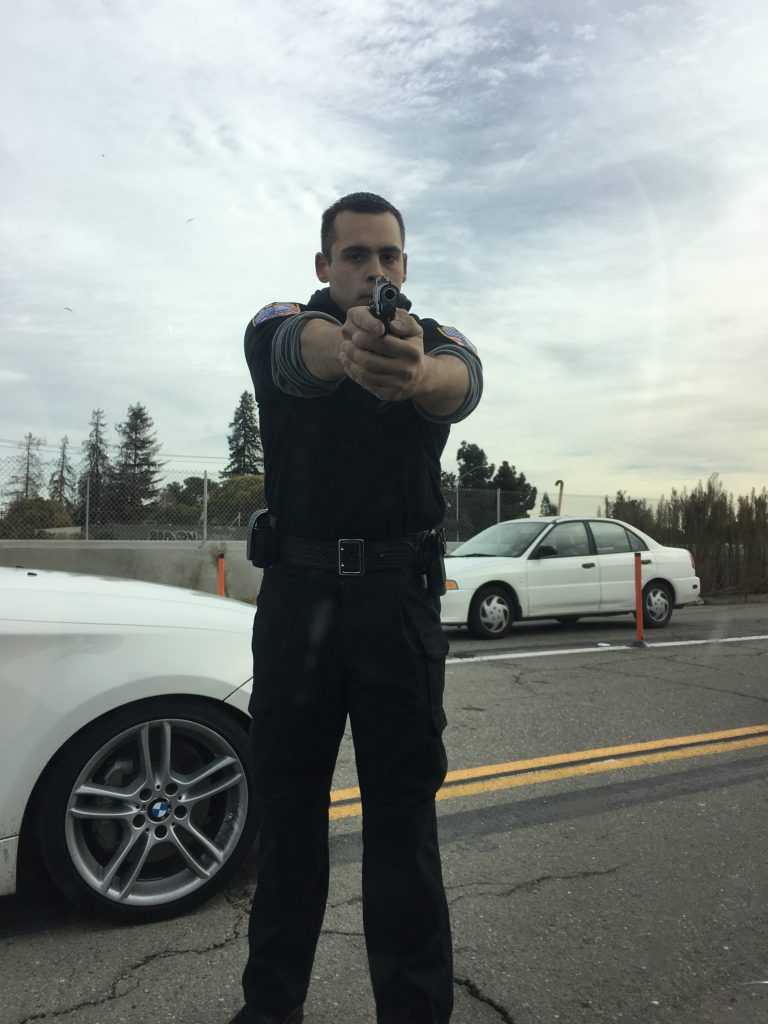 The civil rights lawsuit filed by Alexander Law Group for Patrick Buchanan in Santa Clara County Superior Court, Case Number 16CV299558, set forth the facts.
Assertions of the Complaint Filed in Court
"Defendant WESTFIELD CORPORATION, INC. ("WESTFIELD") is a business entity that owns, operates, maintains, and controls Westfield Valley Fair, a shopping mall, located at 2855 Stevens Creek Blvd., San Jose, California.
"Defendant SECURITY RISK MANAGEMENT, INC. ("SRMI") is a California company with its principal place of business located at 5655 Silver Creek Valley Road, San Jose, California. At all times relevant to this action, SRMI was in the business of providing security guards and services to large companies, including to WESTFIELD at Westfield Valley Fair.
"Defendant FRANCIS ABRAHAM-LANCASTER FIELDING is an individual, and at all times relevant was a resident of Santa Clara County, California, and was a security guard employed by SRMI and working at Westfield Valley Fair.
"On or around December 5, 2015, Plaintiff BUCHANAN was a business invitee at the Westfield Valley Fair. He was stopped in a line of cars exiting the parking garage.
"The driver in the car in front of Mr. BUCHANAN appeared to have changed his mind about exiting and started to back up into Mr. BUCHANAN'S car. Since there was another car directly behind Mr. BUCHANAN'S, Mr. BUCHANAN had no room to reverse and drove into the adjacent exit lane to go around the "stuck" car and allow it space to maneuver. At the time he started his maneuver, he was not aware that there was an orange safety cone in the adjacent lane (the cone was blocked from view by the profile of the car). He did see the cone as he moved into the left lane but was committed to the lane change at that point and unable to avoid striking the cone because of its location. Mr. BUCHANAN exited the parking structure uneventfully and proceeded towards Monroe Street (the nearest surface street).
"As Mr. BUCHANAN was slowed in traffic on Monroe Street, Defendants' security guard, Defendant FIELDING, ran up to Mr. BUCHANAN'S car from behind, came along the passenger side of his car and hit his hand against the front passenger door window. Defendant FIELDING ran in front of the car and then came up to the driver's side window where he hit on the window. Defendant FIELDING started to yell at Mr. BUCHANAN, demanding that BUCHANAN get out of his car. Frightened by Defendant FIELDING'S aggressive and out-of-control behavior, Mr. BUCHANAN stopped but stayed in his car with doors locked and windows closed.
"Unexpectedly, Defendant FIELDING drew his gun from the holster, pulled the gun on BUCHANAN, and aimed the gun at BUCHANAN with his finger on the trigger. Defendant FIELDING held the gun for several minutes, as BUCHANAN stared at the barrel in terror and tried to reason with Defendant FIELDING to put the gun down, as captured by BUCHANAN on his iPhone. A true and correct photograph taken from the iPhone video is attached to the Complaint as Exhibit A.
"After several minutes, FIELDING was joined by another security guard employed by Defendants, who took over control and proceeded to threaten, demand and intimidate BUCHANAN based, apparently, on FIELDING'S obvious fabrication that BUCHANAN had "tried to run him down" (no doubt a reference to FIELDING'S action of running directly in front of BUCHANAN'S moving car to get to the driver's side).
A second security guard "demanded that BUCHANAN unlock his car door and threatened "either unlock your door or I will take out your window!"
"Two San Jose police officers responded to the scene. Defendant FIELDING advised the officers he did not have his guard card or firearms permit "with him." The officers ran a security check on the California Bureau of Security and Investigative Services website and learned that both FIELDING'S security guard license and his firearms permit had been cancelled six (6) months before the incident. Further investigation confirmed that the firearm was registered to FIELDING, but he had no permit to carry a weapon."
The civil complaint filed on behalf of Patrick Buchanan charged the Defendants with:
assault;
false imprisonment;
negligent private policing;
carrying or using a firearm without a valid and current firearms permit a violation of California Business and Professions Codes 7583.3;
displaying a firearm in a rude, angry, or threatening manner a violation of California Penal Code § 417;
negligent operation and management of the property, a violation of California Civil Code § 52.1;
violation of civil rights under the California Constitution, Article I, § 13, including the right to be free from 1) unreasonable seizures, 2) unlawfully and unreasonably detained without reasonable suspicion or probable cause and 3) excessive force and physical violence; and
violation of civil rights protected by California Civil Code Section 43, including the right not to be bodily restrained or harmed.
Security Guards Have No More Powers to Enforce the Law Than Private Persons
Security guards working for private employers are retained primarily to protect their employer's interest in property, and they have no more power to enforce the law than other private persons. (People v. Crowder (1982) 136 Cal.App.3d 841, 844.)
Excessive Force is Never Authorized
Security guards are only allowed to draw their weapons when someone's life is in danger.
When an arrest is made, the law allows only the use of physical force which is reasonable or necessary to restrain the suspect if s/he is resisting in order to make the arrest. Where more force is used than necessary, it is excessive. By law, deadly force is only allowed to protect lives.
A firearm is the highest level of force. The use of deadly or lethal force is not allowed unless there is "an imminent danger to life" and only if "there is no other option." Security guards can only use firearms for a defensive purpose and not to apprehend a fleeing suspect.
Drawing a firearm by a security guard on a person who ran over a plastic traffic cone was outrageous and without provocation.
Assault Occurs with the Intent to Harm
Fielding's demonstration of his intent to inflict immediate injury on the person of another constitutes an assault.
A civil action for assault is based upon an invasion of the right of a person to live without being put in fear of personal harm." (Lowry v. Standard Oil Co. of California (1944) 63 Cal.App.2d 1, 6—7.)
Fielding was in a position to use the gun instantly and had a present ability to do so.
Anyone forced to stare down the barrel of a handgun, suffers a reasonable apprehension of imminent physical harm.
False Imprisonment
False imprisonment is the unlawful violation of the personal liberty of another. (Cal. Penal Code § 236.)
To prove False Imprisonment without an arrest, a plaintiff has to show that 1) defendant intentionally deprived him of freedom of movement by use of physical barriers, force, threats of force, or unreasonable duress; 2) that the restraint/detention compelled the plaintiff to stay for some appreciable time, however short; 3) the plaintiff did not knowingly or voluntarily consent; 4) the plaintiff was harmed; and 5) the defendant's conduct was a substantial factor in causing harm.
Any exercise of force whether express or implied is sufficient to support a finding of false imprisonment. (Wilson v. Houston Funeral Home, 42 Cal. App. 4th 1124, 1135 (1996); Parrott v. Bank of America, 97 Cal. App. 2d 14, 32 (1958).)
Nick Buchanan was unlawfully detained against his will. The Defendants prevented his car from moving and blocked the way by standing in front of and near the car and therefore are liable for false imprisonment.
Fielding additionally prevented Nick Buchanan from leaving by demonstrating a threat to kill Nick if he moved.
Conclusion: Secret Settlements Are Against Public Policy
This lawsuit was concluded pursuant to a confidential settlement agreement that as a matter of law should be against public policy. This lawsuit settled only after it was filed in court and multiple depositions were taken. The settlement terms were extracted by defendants paying for the harm their misconduct caused and the damaged plaintiff's choices are limited due to unequal bargaining power. The complaint initiating this lawsuit remains a matter of public record. It was never sealed. The settlement terms in a gun violence case should be public as well, but they are not.
Secret settlements are illegal in cases of sexual assault, sexual harassment, or harassment or discrimination based on sex. Similarly, Civil Code section 1670.11 makes any provision in a contract or settlement agreement illegal if it waives a party's right to testify in an administrative, legislative, or judicial proceeding about alleged criminal conduct or alleged sexual harassment.
Firearms are widely available, in the hands of the wrong people, misused and abused, resulting in multiple deaths and injuries.
Gagging the terms of settlement of lawsuits arising from firearm abuse defeats a major goal of our legal system which is public education and more importantly the public's right to know the details and results of lawsuits resolved in the judicial branch of government.
The settlement terms in a case of firearm abuse should never be secret.
Get in Touch with Our San Jose Lawyers If You Are a Victim of Police Abuse, Police Brutality, or Civil Rights Violations
Alexander Law Group, LLP attorneys are available to answer questions and share our knowledge of the law and the results of our research and experience. Our goal as personal injury lawyers is to make a difference for our clients. Every day we deal with a range of health and safety issues that most people do not encounter until after an injury occurs. As safety lawyers we are committed to providing our clients and the public with information for safer and healthier living. Call 888-777-1776 or contact us online to schedule a consultation to see how we can help you.